SailPoint is a leader in identity security. The solutions SailPoint delivers can simplify IGA processes and accelerate business. Based on solutions designed to meet compliance regulation, reduce risks, and increase security SailPoint offers four flagship products IdentityIQ, IdentityNow, File Access Manager, and AI Driven Identity.
In this article, we will walk through SailPoint's offerings to assist in management product decisions for the modern enterprise.
SailPoint Identity Security
Organizations can benefit on their digital transformation journey from these top-tier identity security offerings.
IdentityIQ & IdentityNow
Originally, SailPoint pursued IdentityIQ and IdentityNow as complementary technologies. IdentityIQ was the formal Identity Management solution and IdentityNow was the single sign-on (SSO) solution. Five or six years ago this strategy changed and IdentityNow is no longer an access management solution and has transitioned to a cloud enterprise Identity Management solutions. The company leader CEO Mark McClain certainly understood the inherent risk but left unchanged SailPoint wouldn't be in a competitive position in cloud IAM.
File Access Manager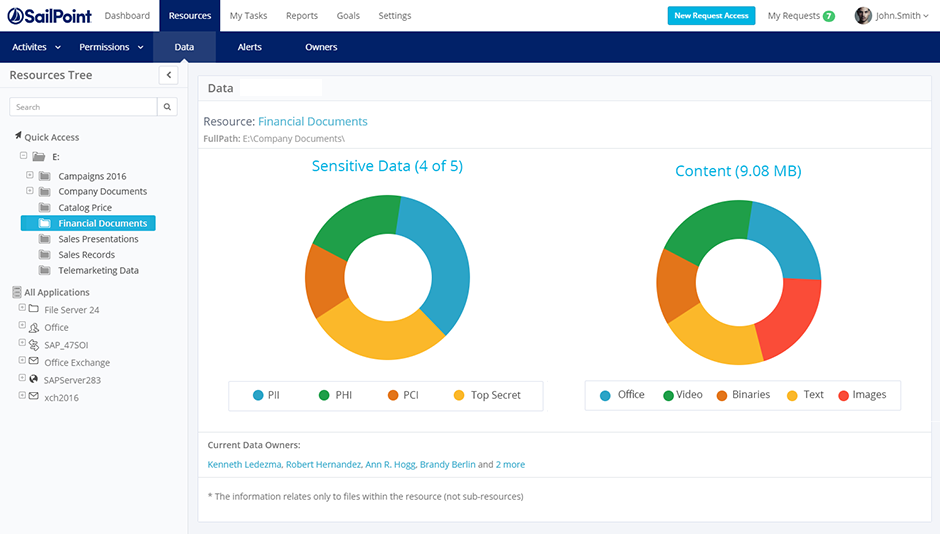 SailPoint File Access Manager (FAM) is another incredibly powerful identity security tool. Where IdentityIQ and IdentityNow manage application accounts and permissions, FAM is all about giving the right permissions to data.
SailPoint recognized early on that data governance would be a key tool in becoming a leader in identity security. Customers of SailPoint can protect their organization and users with data-scanning capabilities that identify files with sensitive data. Then this data can be sent to IIQ or IdentityNow for users to review and test on sensitive data access.
By regularly reviewing which employees have access to sensitive data, any company can significantly reduce risk.
AI-Driven Identity
The largest digital transformation predicted during this decade will be the integration of AI technologies into IGA. With AI-Driven Identity, these services join together SailPoint's IGA tools with a layer of AI monitoring.
Ensuring workers have the right access is a critical job, but the business can't employ humans to be constantly reviewing company access. With AI (which is basically a pattern recognition machine) the SailPoint technology suite adds almost an almost managed services component where machines will be constantly monitoring the environment.
With this technology, SailPoint can auto-approve requests if they are in line with the jobs of the requestors. The diversity of security this adds to business clients is where IGA is headed.
SailPoint Business Integration
Simplifying access request processes is one of our common first initiatives with SailPoint projects. The reason this can be a powerful spot to start is that the customers/workforce will see the benefit immediately when their job of requesting application accounts becomes simplified. SailPoint offers a workflow engine that is great for designing self-service tools to simplify the jobs of managing contractors, managing admin/service accounts, and much more.
Partner with SailPoint Experts
The SailPoint customer success journey is what we do day-in and day-out at GCA. Meet the team and learn how we can deliver world-class business results for your organization's IGA program.
Speak with a GCA expert today!